NEW TECHNOLOGY FOR THE TREATMENT OF OPEN-ANGLE GLAUCOMA DURING CATARACT SURGERY
Glaucoma treatment combined with your cataract surgery procedure.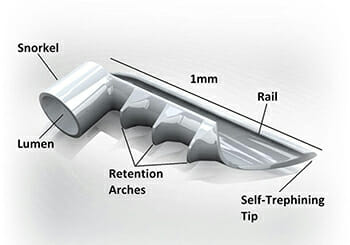 Technology has always played an important role at Texas Eye and Laser Center. Today, almost every aspect of vision is connected to a product or procedure that wasn't available even 10 short years ago. If you have glaucoma and also require cataract surgery there is a new glaucoma eye care procedure that can help. By utilizing the iStent® our doctors can better help cataract patients with glaucoma. The iStent® enables patients to better control their glaucoma treatment and possibly reduce the need to use prescription eye drops at all.
The iStent® is FDA-approved for use in conjunction with cataract surgery to reduce eye pressure in adult patients with mild-to-moderate open-angle glaucoma currently being treated with glaucoma medicine. In clinical trials, iStent® has been shown to safely reduce eye pressure, which is the primary cause of open-angle glaucoma.
HOW THE ISTENT® TRABECULAR MICRO-BYPASS WORKS
High levels of intraocular pressure "IOP" (fluid within the eye) is the only controllable factor when treating glaucoma and is the number one risk factor for glaucoma. The main cause of elevated eye pressure in patients with primary open-angle glaucoma is a reduction of the aqueous outflow in an area called the trabecular meshwork. For patients with combined cataract and open-angle glaucoma, iStent reduces intraocular pressure (IOP) by improving aqueous humor outflow.
Inserted through a 1.5-mm corneal incision, iStent is the only FDA-approved device for the treatment of mild to moderate open-angle glaucoma. The iStent allows the aqueous fluid to bypass the trabecular meshwork and flow into Schlemm's canal, which allows the aqueous fluid to leave the eye so that when new aqueous is produced within the eye there will not be such a pressure elevation. The iStent increases aqueous outflow through its normal pathway through Schlemm's Canal. The iStent® is placed in your eye during cataract surgery by our surgeons at Texas Eye and Laser Center and is so small that you won't be able to see or feel it in your eye.
IS THE ISTENT® EFFECTIVE?
A multicenter study in Germany, Switzerland, and Spain revealed an intraocular pressure reduction that ranged from 3.4 to 5.9 mm Hg when combined with cataract surgery. One year after the surgery patients were still able to eliminate 1 to 1.3 glaucoma medicines from their previous eye drop treatment plan.
iStent® has been proven safe and effective, the iStent Trabecular Micro-Bypass is a surgical therapy that:
Does not limit treatment options that could help maintain your vision in the future
Can be safely implanted during cataract surgery
Saves very important eye tissue that is often damaged by other types of glaucoma surgery
INDICATION FOR USE
The iStent Trabecular Micro-Bypass Stent (Models GTS100R and GTS100L) is indicated for use in conjunction with cataract surgery for the reduction of intraocular pressure (IOP) in adult patients with mild to moderate open-angle glaucoma currently treated with ocular hypotensive medication.
CONTRAINDICATIONS
The iStent is contraindicated in eyes with primary or secondary angle closure glaucoma, including neovascular glaucoma, as well as in patients with retrobulbar tumor, thyroid eye disease, Sturge-Weber Syndrome or any other type of condition that may cause elevated episcleral venous pressure.
PRECAUTIONS
The patient should be monitored postoperatively for proper maintenance of intraocular pressure. The safety and effectiveness of the iStent has not been established as an alternative to the primary treatment of glaucoma with medications, in children, in eyes with significant prior trauma, chronic inflammation, or an abnormal anterior segment, in pseudophakic patients with glaucoma, in patients with pseudoexfoliative glaucoma, pigmentary, and uveitic glaucoma, in patients with unmedicated IOP less than 22 mmHg or greater than 36 mmHg after washout of medications, or in patients with prior glaucoma surgery of any type including argon laser trabeculoplasty, for implantation of more than a single stent, after complications during cataract surgery, and when implantation has been without concomitant cataract surgery with IOL implantation for visually significant cataract.
ADVERSE EVENTS
The most common postoperative adverse events reported in the randomized pivotal trial included early post-operative corneal edema (8%), BCVA loss of = 1 line at or after the 3 month visit (7%), posterior capsular opacification (6%), stent obstruction (4%) early post-operative anterior chamber cells (3%), and early postoperative corneal abrasion (3%).
ISTENT® AT TEXAS EYE & LASER CENTER
Hurst & Ft. Worth Glaucoma Specialists Incorporate the New iStent for the Treatment of Open-Angle Glaucoma During Cataract Surgery.
Texas Eye & Laser Center continues to stay at the forefront of glaucoma technology by offering this new glaucoma procedure. Brian D. Ranelle, D.O., Jerry G. Hu, M.D., Stacey Webb, O.D. M. Keith Head, O.D., Gregg Duistermars, O.D., D'Laine Pulliam O.D., and Cary Labbe, O.D. make up the core of the Texas Eye & Laser Centers glaucoma diagnosis and treatment protocol team. If you are a patient with glaucoma nearing cataract surgery now would be a great time to learn about what the iStent could do for you. We provide glaucoma second opinions to determine if your current treatment is as effective as possible. In addition to iStent, we offer a wide range of glaucoma treatment options.