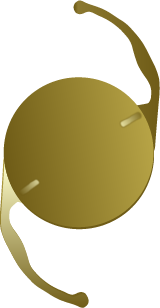 Toric Lens Implants are special astigmatism correcting Lifestyle Lens Implants.
During cataract surgery, surgeons sometimes make limbal relaxing incisions (LRIs) in the eye to attempt to correct astigmatism. However, if a Toric Lens Implant is placed in the eye instead of a standard monofocal lens, then both the cataract and astigmatism can be corrected without any added surgical steps!
Choosing a Toric Lens does add a certain amount of out-of-pocket expense to the cost of cataract surgery, but Texas Eye and Laser Center offer a number of no-interest and low-interest financing options for our comprehensive eye care services to make the Toric Lens Implant affordable on any budget.