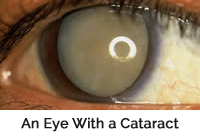 Cataract surgery is the most frequently performed medical procedure in the United States with millions of cataracts removed annually. The Hurst / Fort Worth cataract surgeons at Texas Eye & Laser Center have performed thousands of successful cataract removal procedures using the most advanced technology available in the comfort of their own surgery center.
If you are experiencing any of the following symptoms, you may be a candidate for cataract surgery.
What are the Symptoms of Cataracts?
Difficulty seeing at night
Decreased vision
Trouble reading
Halos around lights
Having blurred vision
Having double vision in a single eye
The sense that you are looking through fog
Poor depth perception
Colors seem to be fading or yellowing

---
---
How Can I Get Diagnosed with a Cataract?
It is important to undergo an extensive eye exam by your personal eye doctor to determine if you are suffering from cataracts.
If you believe you are experiencing the symptoms of a cataract, then please contact the Texas Eye and Laser Center in Fort Worth to schedule a comprehensive eye examination.
Understanding Cataracts
Are you searching for a cataract surgeon in the Fort Worth Area? A cataract is the clouding of the eye's natural crystalline lens. The lens assists with focusing light rays on to the retina, which translates the image to the brain.
After the lens starts to cloud, it is impossible to return the lens to its clear state with medications. Cataract surgery will be required.
Some people think a cataract is a growth on the outside of the eye, but a cataract is actually the gradual clouding occurring within the lens located inside your eye.
Various factors may increase the onset of a cataract, but it is said that if we live long enough, everyone will develop a cataract sooner or later. UV radiation and cigarette smoking have been listed as potentially likely to increase the development of a cataract.
Preparing for Your Cataract Surgery
It is important that you discuss your vision expectations with your doctor so that you can determine the right lens implant for you. You will be given the choice of receiving a traditional implant, which corrects vision at one distance, or a LifeStyle Lens IOL designed to provide a wide range of focus.
Your cataract surgeon at the Texas Eye and Laser Center will explain the differences between these lenses, which are outlined on our LifeStyle Implants Page. Whichever lens you choose will be inserted into your eye after your natural lens has been removed.
During the Cataract Procedure
Before the surgery, your eye must be cleaned and dilated. Both our Hurst and Fort Worth Cataract surgeons use a topical anesthetic on the eye before the small incision is made. An ultrasonic device will be used to emulsify the hard yellow proteins that form the cataract. A suction device can then remove the liquefied cataract from the eye.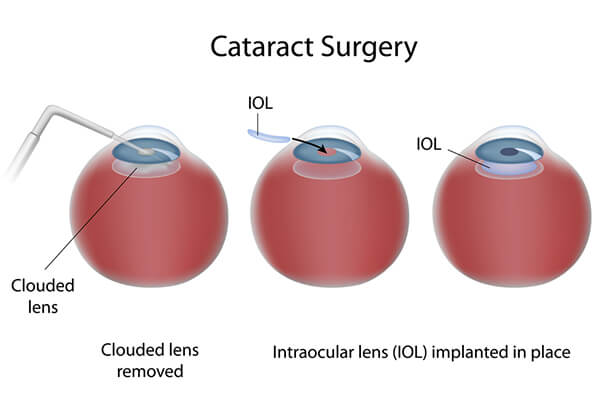 A folded intraocular lens will be inserted through the original incision. This lens will stay in its proper and permanent position inside your eye. You will not be able to feel or sense this lens in any way. Your small incision will self-seal, and you will not require any stitches.
What is Cataract Surgery Recovery like?
Recovering from cataract surgery is fast and relatively easy. Most patients will notice better vision with their new intraocular lens implant within the first 48 hours. Please remember that no two eyes heal quite the same way, and sometimes vision recovery can vary.
It is important that you follow postoperative instructions and use the two different eye medications (both eye drops) as instructed. It is important that you refrain from strenuous physical activity and from rubbing your eyes during the first few weeks after surgery.
Optimizing Your Vision During Cataract Surgery with SmartVision
At Texas Eye and Laser Center, Dr. Brian Ranelle and Dr. Jerry Hu use a variety of advanced technologies that can enhance the quality of your vision after your cataract procedure and even reduce the chances of you needing eyeglasses.
One of these innovative options is SmartVision, a proven state-of-the-art analysis that provides your surgeon with an unprecedented new level of valuable information about your eye. And it's on-demand during the procedure, which is exactly when it is needed the most.
When SmartVision is included as part of your procedure, you can have the confidence of knowing that your surgeon has the information needed to optimize your visual outcomes.
How SmartVision Works
With conventional measurements, it is not possible to achieve the on-demand analysis provided by SmartVision. Prior to SmartVision, surgeons were unable to assess the quality of vision during the procedure and would have to wait until weeks after the procedure to determine the accuracy of the results.
Now, thanks to incredible tools like the state-of-the-art ORA intraoperative aberrometer Dr. Ranelle and Dr. Hu can easily adjust lens powers, astigmatism corrections, and IOL placement. At any point in the cataract procedure, our surgeons can easily take a measurement, which is then analyzed and used to guide their decision making to improve the vision of your eye.
This new level of precision makes cataract outcomes better than ever before! ORA can help patients reduce or eliminate the need for distance glasses after cataract surgery.
Benefits of SmartVision include:
SmartVision analysis can be added to optimize any cataract procedure regardless of the lens that you and your surgeon select.
Your surgeon will receive a SmartVision analysis that will guide the correction of your eye to help ensure optimal outcomes
Advantages of Laser-Assisted Cataract Surgery
Over the past decade, laser-assisted cataract surgery in Texas has gained popularity among eye surgeons and patients with cataracts. While the traditional cataract surgery remains an effective option, a newer technique with the utilization of femtosecond laser has significantly improved precision and accuracy.
We hold a standard of being ahead of the curve in the use of laser technology to perform cataract surgery. Texas Eye and Laser Center offers laser cataract surgery using the Alcon LenSx® Femtosecond Laser.
Less Manipulation
With laser-assisted cataract surgery, the laser is able to break the cataract into smaller and softer fragments. The incision is not burned easily because heat buildup is not excessive. Generally, the lesser the manipulation in the eye, the lesser the chance of breaking the capsule that will hold the implant. Also, the risk of swelling and inflammation is greatly reduced.
Less Cell Damage
Due to less manipulation in the eye, loss of endothelial cells during the operation is kept minimal. In fact, in many laser cataract procedures, there is no loss of endothelial cells. These cells are a strong indicator of the health of the eye as well as the clarity of the cornea, and the cells do not restore.
Femtosecond lasers are equipped with the capacity to deliver infrared light that subsequently "breaks up" the cataract, at which point the surgeon will remove the fragmentation using a vacuum. This process can reduce the need for an ultrasound during the procedure, which can cause collateral damage in and around the eye.
The combination of less ultrasound energy use and fewer movements made within the eye work together to reduce the margin of error for the procedure.
Individualized Outcomes
Before our ophthalmologists at Texas Eye and Laser performs laser-assisted cataract surgery, every eye is mapped and measured, as no two procedures should be treated exactly the same.
The LenSx lasers used in our Hurst and Fort Worth clinics allow us to capture high-resolution imagery of the eye, which are used both in the planning and execution of the laser cataract procedure. The result is an individualized surgery with a degree of customization that was once inconceivable.
If you have any questions before or after your cataract surgery, please contact our Hurst or Fort Worth cataract treatment centers. Your vision is important to us so don't hesitate.
Introducing Blade-Free Laser Cataract Surgery
Now, introducing a cataract procedure as unique as your eye itself. The LenSx laser is an advanced, precision-based technology that operates with unmatched precision and computer-control, helping surgeons to customize the procedure to your eye.

While all human eyes share the same basic anatomical structure, every eye is just a bit different in terms of size, depth, and curvature of the cornea and other key features. Which is why every eye must be carefully measured and mapped prior to cataract surgery.
While these measurements have been routinely performed prior to surgery, the LenSx laser uses a range of highly advanced technologies – including integrated optical coherence tomography (OCT) to capture incredibly precise, high-resolution images of your eyes. These images – and the measurements and data they provide – are then used to plan and perform surgery to exacting specifications not attainable with traditional surgery.
The incredibly advanced LenSx laser is designed specifically for performing the most delicate ocular surgery. It uses a laser source to produce femtosecond laser pulses; an aiming system to localize specific targets in the eye; an optical delivery system to precisely deliver laser pulses to desired targets in the eye and a computer controller to perform clinical procedures.
When you choose the LenSx laser approach, you will enjoy the benefits of:
A bladeless, advanced procedure
A comfortable, relaxed setting
A truly premium surgical experience
Call Texas Eye and Laser Center at 817-768-6620 for your cataract evaluation today!