SMILE Eye Surgery in Fort Worth & Hurst, TX
A Kinder, Gentler Laser Vision Correction
We want to give you something to SMILE about. And it's here! The latest laser vision correction from Zeiss may be your ticket to glasses-free, contact-free clear vision.
Can you imagine the freedom?
As part of our ongoing mission to offer our patients the latest and most advanced vision-correcting technology, Texas Eye and Laser Center offers SMILE in Dallas, Fort Worth & all of Tarrant County TX.
What is SMILE?
SMILE is an acronym that stands for 'Small Incision Lenticule Extraction.' It's the latest in laser vision correction for myopia (nearsightedness) and astigmatism, providing LASIK-like outcomes in a minimally-invasive procedure. A laser is used to create a thin contact-lens-shape layer just beneath the surface of the eye and then a small opening through which the layer is removed, correcting your vision.

SMILE laser vision correction is:
Proven: Worldwide, millions of SMILE procedures have been performed. And those numbers continue to grow every day making SMILE the fastest-growing vision correction. We love that SMILE leaves most of the top corneal layers intact allowing for a strong and stable cornea.
Gentle: SMILE is one of the gentlest vision correction procedures available. The treatment is so comfortable that most people report feeling nothing at all. Patients consistently describe SMILE as painless and very comfortable both during and after the procedure.
Fast: The whole procedure takes only minutes, and most people are driving the next day without glasses! Because it's minimally invasive, most people can return to many of their daily activities the next day.
Watch the video below to learn more about SMILE.
How does SMILE surgery work?
SMILE is the latest in laser vision correction at Texas Eye and Laser Center for myopia and astigmatism. The procedure quickly reshapes the cornea of your eye. Watch it here.
What makes SMILE different from LASIK?
Laser vision correction helps correct vision that is farsighted, nearsighted, or has astigmatism. During the procedure, a laser gently reshapes the cornea so that light focuses better. Millions have been helped by PRK and LASIK. Now we're offering SMILE, a minimally invasive procedure with little downtime. Our surgeons and staff will help you determine which option is best for your eyes.
LASIK
A corneal flap is made with a laser. A gentle laser reshapes the cornea, resulting in clearer vision.

SMILE
A small opening is made in the cornea. A small layer is removed, resulting in clearer vision.

Is SMILE safe?
SMILE is FDA-approved for the treatment of myopia and astigmatism. Millions of SMILE procedures have been performed worldwide by more than 1,700 surgeons. Additionally, Texas Eye and Laser Center are committed to evaluating the risks vs. benefits of all technologies and procedures we offer. Before ever offering new procedures to our patients, they must pass a simple test: Would we choose to perform this procedure on ourselves or our family members?
Why should I choose Texas Eye and Laser Center?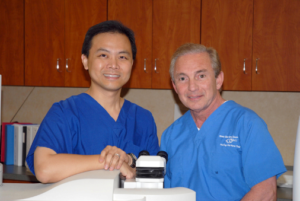 Texas Eye and Laser Center is home to highly experienced surgeons. Dr. Ranelle and Dr. Hu are board-certified and have more than 40 years of combined laser vision correction experience.
How do I know if I'm a good candidate for SMILE?
You've already taken the first, most important step by educating yourself about SMILE and laser vision correction. Now, take our online self-candidacy test to see if you meet some of the basic requirements for SMILE. It should take only a few minutes. Then, when you're ready, schedule an appointment for your free screening. Our surgeons will carefully examine your eye health and visual goals before recommending a laser vision correction procedure.
How much does SMILE cost?
The cost of SMILE is comparable to that of other laser vision correction procedures offered at Texas Eye and Laser Center. A Patient Ambassador will discuss specific costs during your free SMILE screening. We offer financing for laser vision correction procedures through Care Credit.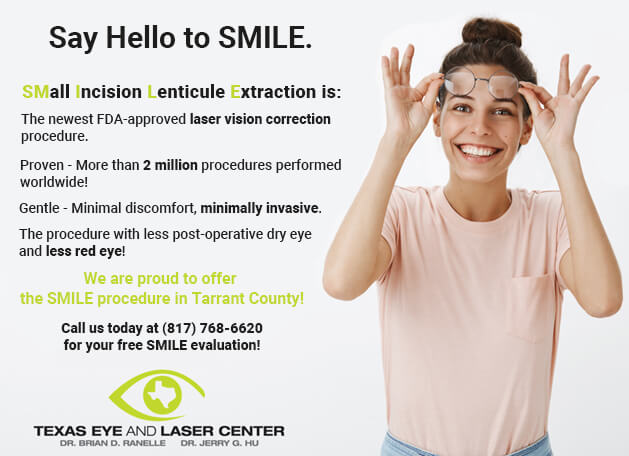 How do I make an appointment?
To schedule your free SMILE screening, please contact us at 817-803-6106. During your screening we will discuss the results you can expect, the cost of SMILE, and any questions you may have.