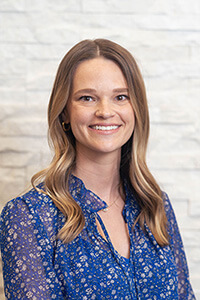 Fort Worth & Hurst Optometrist
Specialties:
Routine Exams, Diabetic Exams, Glaucoma Management
Locations:
Hurst, TX
Dr. D'Laine Heisterkamp joined Texas Eye and Laser Center in September of 2017. She is a therapeutic optometrist and an optometric glaucoma specialist, certified by the Texas Board of Optometry. She is also a Fellow of the American Academy of Optometry.
She grew up in Arlington, Texas until moving to Austin to attend the University of Texas, where she graduated magna cum laude and received a Bachelor of Science in biology. She then attended the University of Houston College of Optometry and earned her Doctorate of Optometry in May of 2016.
After graduation from optometry school, she elected to do an additional year of training by completing a residency in ocular disease and refractive surgery comanagement at the Eye Center of Texas in Houston, Texas. In 2018 she completed the requirements to become a Fellow in the American Academy of Optometry.
In her free time, she enjoys being active in the outdoors, seeing movies, and spending time with friends and family.
CURRICULUM VITAE
Education:
Doctor of Optometry, University of Houston College of Optometry Completed May 2016
Bachelor of Science in Biology, University of Texas, Austin, Texas, Completed May 2012
Experience:
Residency in Ocular Disease and Refractive Surgery Co-Management, Eye Center of Texas, Houston, Texas
Externship in primary care/specialty contact lenses at Plaza Vision Center, Dallas, Texas
Externship in primary care/ocular disease at Cedar Springs Eye Clinic, Dallas, Texas
Honors:
Fellow of the American Academy of Optometry
FERV Phieffer Academic Scholarship
Beta Sigma Kappa (BSK) Honor Society Member
Doctors of Texas State Optical Scholarship
Leadership and Volunteer
Teaching Assistant for Clinic Procedures Lab I and II
SVOSH Optometric Mission Trip in Guerrero, Mexico
Special Olympics Vision Screenings
Professional Affiliations:
American Academy of Optometry
Texas Optometric Association
American Optometric Association