Fort Worth & Hurst Intraocular Lens Options
Lifestyle Lens Options
Texas Eye and Laser Center in Fort Worth and Hurst offer the latest technology in Lifestyle Lenses. The advances in intraocular lens (IOL) technology have made it possible to dramatically increase a patient's ability to see after cataract surgery.
Previously, lens implants were only traditional, meaning that the lenses could only allow people to see at one distance, either near, intermediate, or far. With traditional lens implants cataract patients required glasses after surgery. Now, with premium lens implants like PanOptix®, Synergy, Tecnis® Multifocal IOL, and Acrysof® ReSTOR cataract patients are able to greatly reduce or even eliminate their dependence on glasses!
How do Multifocal IOL's Work?
Our eyes are always adjusting and constantly focusing on objects up close, far away, and in between. The ability of our eyes to change focus from far away to up close is called accommodation. As we get older this ability decreases, and we become dependent on bifocals or reading glasses, this is called presbyopia. LifeStyle lens implants are designed to provide quality vision at a range of distances by combining the strengths of different technologies.
int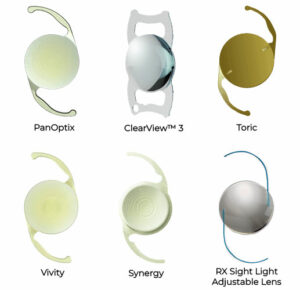 PanOptix® Trifocal Lens Implant
The Alcon PanOptix Trifocal Lens Implant is making headlines as the very first FDA approved trifocal lens implant for cataract surgery in the U.S. The PanOptix Lens reduces your need for glasses after surgery by correcting vision at all three distances opposed to only two of most multifocal lens implants. While this trifocal lens is new in the U.S., many trifocal lenses are widely used in Europe showing advances in a continuous range of vision. Dr. Brian Ranelle reports that the PanOptix lens excels in meeting patients needs. Dr. Jerry Hu and his colleagues published an article in the American Academy of Ophthalmology Journal comparing the patient visual outcome of a monofocal intraocular lens to the PanOptix trifocal intraocular lens. Learn more about the study and findings here.
With the PanOptix Trifocal Lens Implant, you can expect better image quality, enhanced middle and near vision as well as easier reading without glasses!
The Vivity IOL
The Vivity IOL is an extended depth of focus (EDOF) IOL. It stretches and shifts light entering your eye rather than splitting the light as a multifocal IOL does. Only the Vivity IOL can shift light like this, thanks to X-WAVE technology. This technology makes it so you can transition between distance and intermediate vision without night time rings or halos.
You can go from distance vision to looking at something close to your eyes without gaps in your vision or using glasses. You can see clearly at any distance with the Vivity IOL because of the quality vision it creates at each distance. It gives you monofocal-like distance vision, which means you will never need glasses or contacts to see over far distances. The intermediate vision Vivity provides is excellent, and the up-close vision is practical.
With the Vivity IOL, you should be able to read and use your cell phone without the need for glasses. You may need visual aids, though, if you are reading a food or prescription label.
Other than that, it can give you total visual freedom! If you want to reduce or end your need for glasses, the Vivity IOL may be right for you!
TECNIS Synergy Trifocal IOL
The TECNIS Synergy Trifocal IOL is one of the newest and highest-performing lenses on the market. It delivers the most comprehensive range of continuous vision among all IOLs and provides the best up-close vision of all multifocal IOLs. It combines extended depth of focus (EDOF) and multifocal technologies. EDOF technology creates a more extended focal point than a standard multifocal, increasing your vision range at each focal point.
The EDOF technology then gets combined with the best multifocal IOL technology. This combination creates multiple extended focal points which allows you to see clearly at various distances. It also eliminates visual gaps that other multifocal IOLs produce between refractive distances. Each focal point is longer than a standard focal point, which eliminates disruptions in your sight between refractive zones. Synergy technology also creates excellent contrast in your sight, in all lighting conditions. That means you can look at your cell phone or read in low light conditions without aberrations or glare. The Tecnis Synergy Trifocal lens also comes in a Toric model.
The TECNIS Synergy IOL also comes in a toric model, which means it corrects astigmatism. Whether you need the toric model or not, you can end your need for glasses with the Synergy IOL.
Alcon Acrysof Toric® Lens Implant For Astigmatism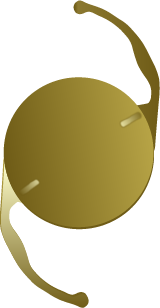 For many years, cataract patients who suffered from mild to severe astigmatism did not have a lens option to correct blurred vision after cataract removal. That all changed with the development of the Alcon Acrysof Toric® Lens Implant, which is able to actually correct astigmatism and provides improved visual acuity results.
With the advancement in lens implant technology, even high levels of astigmatism can now be corrected during the cataract removal procedure. The Alcon Acrysof Toric® Lens Implant is astigmatism correcting, but may not correct both near and far vision, so reading glasses may still be required from time to time.
Toric Lens Implants are special astigmatism correcting Lifestyle Lens Implants. During cataract surgery, surgeons sometimes make limbal relaxing incisions (LRIs) in the eye to attempt to correct astigmatism. However, if a Toric Lens Implant is placed in the eye instead of a standard monofocal lens, then both the cataract and astigmatism can be corrected without any added surgical steps!
Choosing a Toric Lens does add a certain amount of out-of-pocket expense to the cost of cataract surgery, but Texas Eye and Laser Center offer a number of no-interest and low-interest financing options for our comprehensive eye care services to make the Toric Lens Implant affordable on any budget.
Light Adjustable Lens™
This groundbreaking technology redefines cataract surgery outcomes. The Light Adjustable Lens is a unique intraocular lens that allows post-surgery adjustments to fine-tune vision. Using UV light, the lens can be modified to achieve the desired refractive correction, providing personalized vision enhancement. This ensures precise results, minimizing the need for additional procedures. Discover a new level of visual clarity and freedom with the Light Adjustable Lens at Texas Eye and Laser Center.
ClearView 3 Multifocal IOL
The ClearView 3 IOL delivers exceptional clarity and contrast for a vivid visual experience. Its innovative design corrects a wide range of refractive errors, reducing dependence on glasses.
The lens is skillfully implanted during cataract surgery, seamlessly replacing the natural lens. Experience sharper, more vibrant vision with the ClearView 3, setting a new standard for visual excellence at Texas Eye and Laser Center.