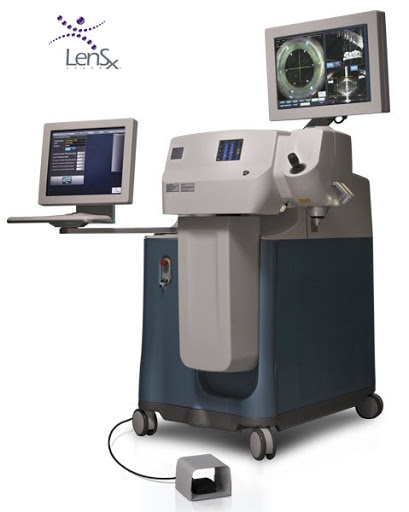 Texas Eye and Laser Center are one of the premier LASIK, cataract, cornea, and general ophthalmology practices in Fort Worth and North Texas. Doctors Brian Ranelle D.O. and Jerry Hu, M.D., offer the DFW Metroplex the latest innovations in ophthalmic technology and techniques, including blade-free laser cataract removal using LenSx technology, LifeStyle IOLs for our cataract patients that may allow you to see near, far, and everything in-between, and all-laser LASIK vision correction. Learn more about the LASIK & cataract treatment options available in Ft. Worth and Hurst, TX by browsing our website and contacting us.
Advanced Technology
The Texas Eye and Laser Center invests in the very latest laser, surgical and pre-op testing equipment available on the market. From LASIK eye surgery to blade-free cataract surgery, to the treatment of corneal diseases, Texas Eye and Laser Center offers the advanced technology available.
We offer LASIK as well as blade-free laser cataract removal using LenSx. We are always up-to-date on the latest and effective treatments and technologies. We offer the latest advances in LifeStyle IOLs for cataract patients, including Crystalens®, Tecnis® Multifocal, and the Acrysof® ReSTOR lens.
Learn more about the latest technological advancements offered by Texas Eye and Laser Center by visiting our technology page.
Experienced Surgeons
The surgeons at Texas Eye and Laser Center are among the experienced and well trained in the entire country. Together, Doctors Jerry Hu, M.D., and Brian Ranelle D.O. have performed thousands of surgical and laser vision correction procedures. Dr. Brian Ranelle is board-certified by the American Academy of Ophthalmology and both physicians have been voted Top Doc by his peers 17 years in a row, as well as best LASIK surgeon by the readers of the Fort Worth Star-Telegram.
Our surgeons are fellowship-trained and completed extensive training as eye surgery specialists. Our doctors are also continuously sought out by manufacturers to conduct clinical trials on new medications and technologies.
Texas Eye Surgery Center
Texas Eye and Laser Center's Ambulatory Surgery Center (ASC) has been awarded the Certificate of Accreditation by the Accreditation Association for Ambulatory Health Care, Inc. (AAAHC). The award means that Texas Eye and Laser Center has met nationally recognized standards for quality care. In order to achieve accreditation, Texas Eye and Laser Center underwent an extensive on-site survey of its facilities and services. The survey team, composed of physicians, nurses, and administrators, evaluated all aspects of patient care.
Excimer Laser Center
Our excimer laser center is specially designed for vision correction. The laser center is constantly monitored to maintain strict humidity and temperature levels, which are imperative for precision during LASIK and PRK laser vision correction.
Our Culture
Every member of the Texas Eye and Laser Center team is dedicated to providing excellent patient care. Our company's mission statement is "World Class Patient Care". We value our patients and will make your care our priority during your time with us at Texas Eye and Laser Center.
Our Community
As a proud member of this community, Texas Eye and Laser Center is pleased to support the community in different ways. If you would like to get involved with us, please call our community relations specialist. We provide free cataract screenings at our Hurst and Ft. Worth offices, as well as offering vision screenings at health fairs and seminars to senior citizen groups.