Fort Worth & Hurst Dry Eye Treatment
Tears play an important role in preserving the health and function of the eyes. Not only do they keep the eyes moist and comfortable, but they also protect them from bacteria and debris. Dry eye syndrome is a chronic condition in which the body cannot produce sufficient tears to keep the eyes properly lubricated. Individuals with dry eye often complain of stinging, itchiness, burning and feeling as if they have a foreign object in the eye. They may also experience constant tearing and blurry vision.
Various treatments, including eye drops, ointments, and warm compresses, are available to alleviate dry eye symptoms. However, there is another more long-lasting solution. Intense pulsed light (IPL) is an innovative treatment that has been proven to significantly improve symptoms by addressing the root of the problem. The Texas Eye and Laser Center offers this non-invasive procedure for patients who seek relief from dry eye.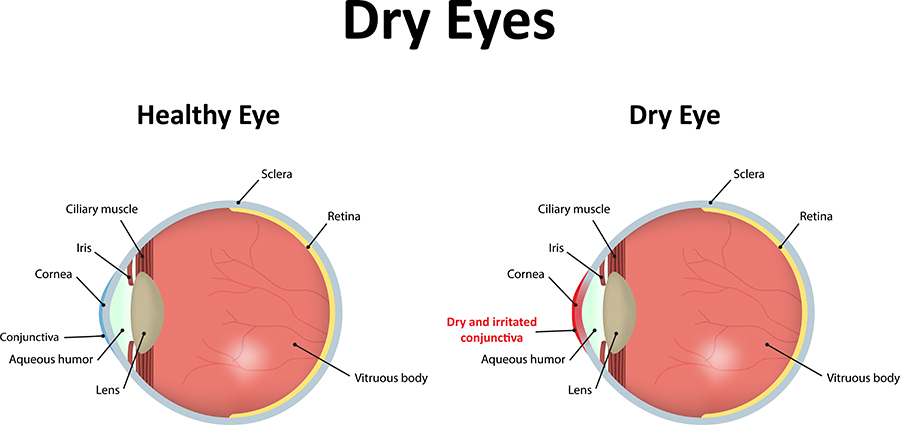 What are Dry Eyes?
There are several types of dry eye, the most common being evaporative dry eye. This form of the condition involves the malfunctioning meibomian glands, which secrete oils to slow down the evaporation of tears. When the meibomian glands malfunction or become plugged, the tears evaporate too quickly and cannot keep the eyes properly lubricated.
Although benign, dry eye can be a very uncomfortable condition. With proper treatment, patients can relieve irritating dry eye symptoms, enjoy greater eye comfort and, in some cases, experience better vision.
What is IPL?
IPL is a quick and easy procedure that treats dry eye by targeting dysfunctional meibomian glands. An IPL handpiece is used to gently heat the meibomian glands, which melts away stagnant secretions. This allows the meibomian glands to produce more oils needed to slow down the evaporation of tears.
Dry Eyes Treatment Details
IPL treatment typically takes less than 30 minutes to complete in our office. Before we begin, we will thoroughly clean your eyes and the surrounding area. We will then place a protective shield onto the eyes and apply a cooling gel to the treated area. The IPL handpiece will be used to deliver short bursts of light to gently heat the eyelids. During treatment, patients may experience a slight sensation of heat, as the meibomian glands open. After treatment, the meibomian glands will be drained and the treated area will be cleaned. IPL does not require any downtime; patients are able to resume their regular routine immediately.
Clinical studies have found that tear function increases after just one IPL treatment. More treatment sessions may be needed for more severe cases. Our expert team of eye doctors can design a treatment plan for you after evaluating your symptoms and the severity of the condition.
Schedule a Consultation
The Texas Eye and Laser Center is here to help you achieve relief from dry eye. To learn more about dry eye and IPL, please schedule a consultation by calling (817) 768-6620 today.