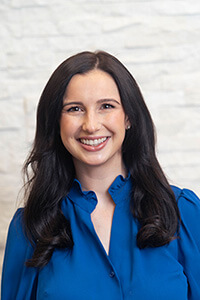 Hurst & Fort Worth Ophthalmologist
Specialties:
Routine Exams, Diabetic Exams, Glaucoma Management, Cataract Evaluations, Refractive Surgery Evaluations
Locations:
Fort Worth & Hurst, TX
Dr. Megan Solis joined Texas Eye and Laser Center in May of 2021. She is certified by the Texas Board of Optometry as a Therapeutic Optometrist and an Optometric Glaucoma Specialist.
She was born and raised in Mckinney, Texas and graduated from Texas A&M University with her Bachelor of Science in Biology. She then went on to graduate Summa Cum Laude from the University of Houston College of Optometry.
After graduating from optometry school, she completed a residency in Ocular Disease at Bascom Palmer Eye Institute in Miami, Florida. During her residency, she co-managed with various subspecialties, including medical and surgical retina, glaucoma, cornea, oculoplastics, and neuro-ophthalmology services. She also treated acute eye conditions within the BPEI Emergency Department and conducted in-patient consults for the University of Miami Hospital.
In her free time, Dr. Megan Solis enjoys traveling with her husband and spending time with their two dogs, Benson and Frankie. 
CURRICULUM VITAE
Education
Doctor of Optometry, University of Houston College of Optometry Completed May 2020
Bachelor of Science in Biology, Texas A&M University, Completed May 2016
Experience
Residency in Ocular Disease Bascom Palmer Eye Institute, Miami, Florida
Externship in primary care/ocular disease at Cedar Springs Eye Clinic, Dallas, Texas
Externship in specialty contact lenses/binocular vision disorders at Bellaire Family Eye Care/Vision Learning Center, Bellaire, Texas
Honors
Johnson & Johnson Award of Excellence in Contact Lens Patient Care, 2020
VSP/AAOF Practice Excellence Scholarship, 2019
Honors Selection Grand Rounds Paper, 2019
FERV/Nelson Reber Eye Open Scholarship, 2018 and 2019
Harris Country Optometric Society Scholarship, 2018 and 2019
UHS De Wolfe Scholarship Endowment, 2017, 2018 and 2019
Beta Sigma Kappa International Optometric Honor Society Member
Leadership and Volunteer
STOA Secretary Treasurer
Medical Laboratory Teaching Assistant
Professional Affiliations
Texas Optometric Association
American Academy of Optometry
American Optometric Association