Treatment for Farsightedness in Fort Worth & Hurst, TX
Conductive Keratoplasty (CK) is a revolutionary vision correction procedure that uses radiofrequency (RF) waves instead of a laser to reshape the contours of your eye. By changing the way your cornea (the clear front surface of the eye) directs light to the rest of your eye, CK effectively treats the condition known as hyperopia (commonly called farsightedness.)
A normal eye focuses light on the retina (the back surface of the eye) to create an image. In a farsighted (hyperopic) eye, where vision may be better at distance than at close proximity, the curvature of the cornea is too flat. This causes the lens to focus light behind the retina, which results in blurred vision.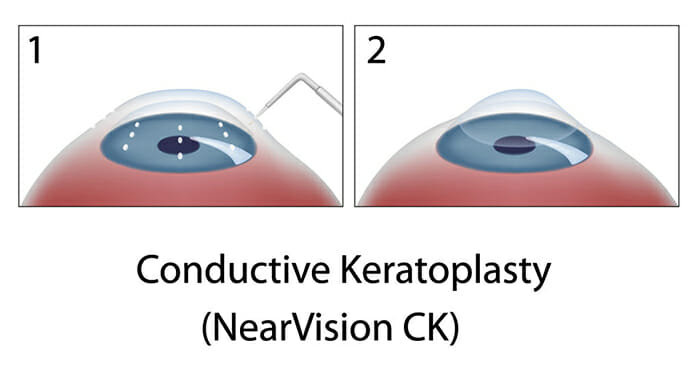 CK is an exciting option for patients with farsightedness. It is a new procedure that uses radiofrequency (RF) waves, just like the ones you use to listen to your favorite radio station, instead of a laser. CK uses pinpoint accurate pulses of radiofrequency waves to reshape and steepen corneal tissue centrally, resulting in improved vision, especially for reading. Radiofrequency is one of today's most advanced surgical technologies. It is routinely used in other procedures such as prostate cancer therapy, back surgery, orthopedics, cosmetics, and cardiovascular procedures.
Because CK does not involve cutting or lasers, the procedure can be conveniently performed in the office using only eye drop anesthesia. The procedure takes about three minutes to perform, and the result is an immediate improvement in your vision. In most cases, you can return to your normal schedule the next day.