Written by Brian D. Ranelle, D.O.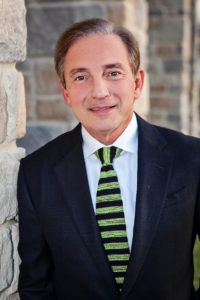 Modern cataract surgery is not only about restoring your vision; it is also about restoring your quality of life and health. Today, patients have options to customize their cataract procedures. This allows us to meet the patient's visual needs beyond cataract removal. Using advanced technology and lifestyle lens implants, the goal is to reduce your dependence on glasses for all activities, near and far. We want our patients to see the world more clearly with faster visual recovery and return to their lives.
We also offer clear lens removal for those who want to reduce or eliminate their need for glasses due to presbyopia (loss of near vision) and those who have been glasses dependent all their lives due to myopia (nearsightedness) or hyperopia (farsightedness) or astigmatism. This is also an option for people who are not good LASIK candidates after the age of 45.
Advancement in Modern Cataract Surgery
Measurements. Advancements in modern cataract surgery and clear lens removal include more accurate measurements of the eye length (axial length), better corneal curvature assessment and pre-operative testing for underlying diseases. We perform additional measurements during surgery.
Lifestyle Lens Implants. Advanced technology lens implants (or IOLs) have allowed us to offer our patients a wider range of visual options. These include the correction of distance vision, computer vision, and reading vision. Some examples of the IOLs we offer are the lower power Multifocal IOL as well as the Tecnis Symfony IOL. The Tecnis Symfony IOL corrects for a better computer or intermediate vision. Our practice implanted the first Tecnis Symfony implant in Texas and we have had excellent results for our patients.
Surgical Techniques. Another major advancement is the introduction of Laser-Assisted Cataract Surgery. LenSx laser technology improves the accuracy, safety and visual recovery for our cataract and clear lens patients. Our practice was one of the first in the US to use this advanced laser technology to improve the precision of cataract removal. Our surgical technique has also been improved by technology, called intraoperative aberrometry (ORA) or "SmartVision," that is used in surgery after the cataract has been removed. SmartVision determines the implant power more accurately before the IOL is placed. Our goal is to leave nothing to chance during your cataract removal.
Risks and Outcomes
Cataract and clear lens removal have never been better or more accurate. However, there is a slight risk the visual goals may not be attained. This may be due to a small variation with eye length (axial length) and the final resting spot of the lens implants. Our calculation formulas are better than ever, but they are based on mathematical formulas. It is necessary in about 2% of cases to perform additional touch-up or enhancement surgery for patients with an advanced lifestyle IOL. It is important that each patient has realistic expectations before undergoing cataract removal. Some eyes take longer to heal even in the same patient. Certain diseases, such as macular degeneration, glaucoma, or corneal irregularity, may prevent one from being a candidate for lifestyle IOLs
Cataract Surgery at Texas Eye and Laser Center
Cataracts not only rob you of your vision, but they also affect your lifestyle and daily activities. We offer our patients custom options to reduce their dependence on glasses and contacts. Our computer-controlled laser cataract removal combined with our lifestyle lens implants is the most advanced cataract removal techniques available anywhere. At Texas Eye and Laser Center we offer these advanced cataract removal techniques with a personal touch. Our goal is to restore your best possible vision and improve your active lifestyle.